GREETINGS AND WELCOME!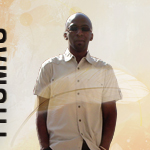 My name is Stedroy Thomas and I specialize in Print and Interactive Design
Here you'll see some of the things I've done, some things I'm working on and also see how I make a mark on the world.
Im a well rounded lover of Art(in all its forms), whether its Fine art, Culinary Art, and yes Graphic Art. I am an individual who is laid back yet outgoing with a strong sense humor that love to laugh and to make people laugh.
I'm influenced by the environment, things that I see, experience and just about anything that engages my senses. Also things that I have learned and things that I would like to learn.